Ski poles provide great stability and mobility. You may be wondering, 'what length ski pole do I need?' As you begin to master the basics of skiing, you will need ski poles for support; if you are an advanced skier, then you will be needing ski poles for mobility. A ski pole size chart helps you choose the right pole according to your needs. The right ski pole creates balance on challenging terrain, increases mobility across the mountain, and establishes rhythm through turns. Carvers Ski+Bike provides seasonal ski rentals and high-quality ski poles. And here's our guide on choosing the right ski pole height chart to help you make the right choice.
What Are The Basic Ski Pole Features?
Confused about how to measure ski pole length? You only need to know two things: the type of ski you prefer and your height. Your ski style will tell you what important features you need, whereas your height will determine the exact length of the ski pole. If your ski pole is too long, it can result in loss of control and responsiveness. If your ski pole is too short, it will result in you leaning forward. For a better strength-to-weight ratio, you can try different materials once you become more experienced. A ski pole height chart will allow you to find the pole that fits.
STRAP
Ski pole straps are available in adjustable glove-integrated detachable or nylon wrist strap options. The detachable system works best in case you fall as it helps in removing the poles to prevent injury during a fall. Apart from considering 'what size ski poles do I need', you should know about the best straps that will protect you in an event of a tumble. You will have a safer and more successful trip out in the snow if you choose the right poles according to your height whilst referring to a ski pole size chart.
BASKET
If you are planning to venture into a more challenging terrain, remember that the ski pole basket plays a significant role. It's a plastic disk near the bottom of the pole. Its purpose is to keep the pole from sinking too much in the snow. Use a bigger basket in powder conditions, and when venturing through slopes or hardpack conditions, use a smaller basket. Choose the basket according to your skiing activities and ski pole size chart.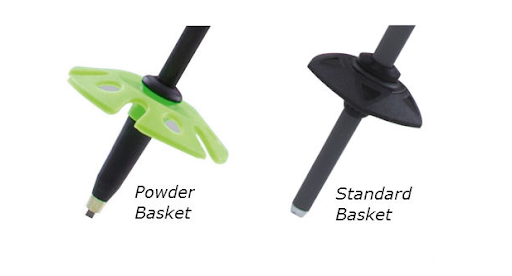 TELESCOPIC POLES
Knowing how to measure the ski pole length and what telescopic poles are is essential. Mountaineers use telescopic poles that allow them to increase the length for uphill climbs and shorten it for descents. For effective striding, make sure that the telescopic poles you select adjust from waist height to above your armpit.
MATERIAL
The ski pole size chart helps to determine the suitable size, whereas the material of the shaft influences the durability, cost, and weight. You will get plenty of options when it comes to materials, including aluminum, carbon fiber, bamboo, and titanium. If you are a beginner, aluminum poles are the best option as they are heavier, durable, and affordable. Now let's get to the other questions: 'what size ski poles do I need' and 'what material it should be'. Composite poles offer flexibility and durability as they can bend a lot. For expert and advanced levels, carbon poles are very common. They are flexible and provide an ultra-light feel with high strength to weight ratio.
What Size Ski Poles Do I Need? Make the Decision with Our Help!
Your ski poles should be strong enough to sustain turns, flexible enough to withstand hard falls, and light enough for your arm. Here's a ski pole height chart to help you determine just which length you need.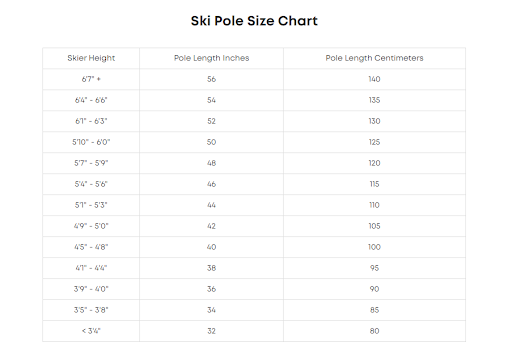 Turn your ski pole upside down and hold from below the basket. Your arms should make a 90-degree angle at this position when the upper arms are at your sides. You can choose shorter or longer poles according to your style. We hope that our ski pole size chart will help you calculate the right size.
Get the Appropriate Ski Poles for Your Next Skiing Trip!
Even when you have a ski pole height chart, it can be difficult to determine the right size of ski poles. Let our trained staff help you!
Experience the great outdoors with Carvers Ski+Bike. We provide all equipment for mountain sports in Breckenridge, CO. You will get all the best brands for mountain sports.