When they walk into our ski rental shop, many clients are amazed by our range of skiing essentials, from clothes to ski equipment. They get genuinely puzzled: do I actually need to wear so much gear when going up the slope? It is not surprising, especially if you want to try skiing for the first time. This is why we decided to explain in detail: what do you need for skiing?
The first thing you need to know is that skiing is a taxing sport, and you need proper gear for safety, warmth, and comfort. Winter in the Colorado Mountains can be very cold, especially on the peaks where you find the ski slopes. Thus, the things you need for skiing are not just skis, boots, and poles. Every accessory on the skiing gear list you need on your trip has to be specially designed for this winter sport.
Discover the Definitive Skiing Gear List
If you wonder "what do I need to ski", then keep reading our list carefully. We prepared this skiing essentials list with first time skiers in mind. However, even experienced skiers should use this as a checklist for the preparations for their annual skiing trip.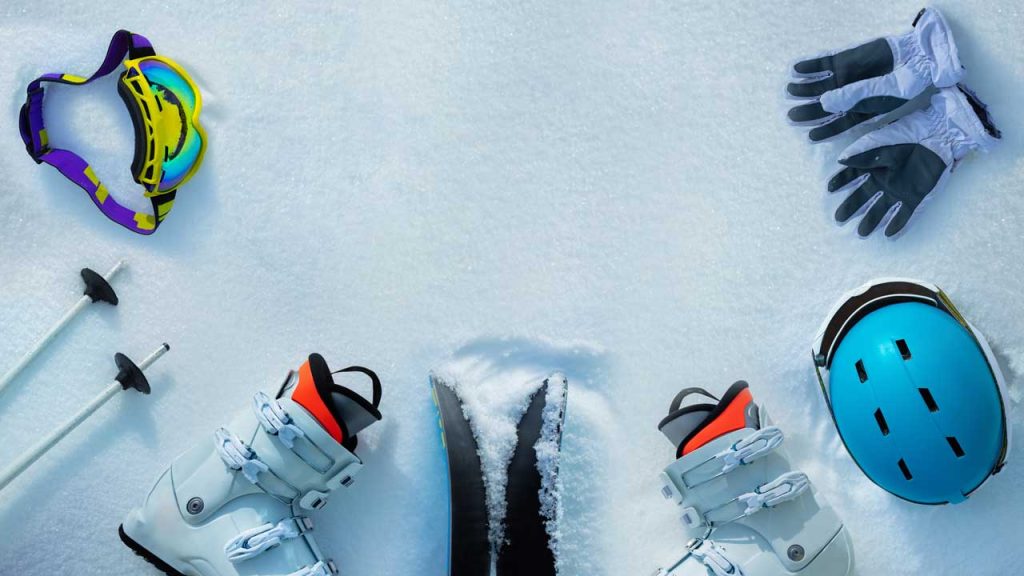 Without further delays, here is what gear do you need for skiing:
Skis, Bindings, and Poles
We start from the bottoms up. Beginner skiers can save costs and find properly fitting equipment in our rental shop. Carvers Ski+Bike carries only top brands and our knowledgeable staff will help you find the perfect size for skis and boots. For your safety on the slope, it is critical to wear adequate gear – neither too large, nor too small.

We will also teach you how to put on and take off your skis without damaging the bindings or the boots.
Ski Helmet
One critical item on any skiing essentials list, especially for a beginner, is the helmet. Just like with riding a motorcycle, a ski helmet can save your life if you suffer an accident on the mountains. The helmet must be closely fitting, without feeling too tight. An experienced staff will help you find the right sized ski helmet for rent.
Ski Boots
Ski boots are different from any other type of mountain boots. They have a special make and any skiing equipment list will state that they must be a perfect fit for your feet. While some skiers advocate for owning your own boots for skiing, we can assure you that you will find the right size to rent in our shop.
You have to keep in mind that these boots are worn over thick and warm woolen socks, so do not be surprised if the adequate ski boot is one or two sizes bigger than your regular shoe size.
Jacket and Pants
Next on our list of what you need to ski is outer clothing which protects you against snow and frost. Ski clothes are made of special insulating material, which keeps you warm but is lightweight and does not restrict your freedom of movement. Bulky snow jackets you usually wear in winter are not suitable for skiing, nor are jeans.
Base and Mid Layers
Some days in the Colorado Mountains are definitely frosty, but this needn't keep you away from the slopes. Comfortable base and mid layers will keep you warm and dry if you choose them wisely. You should avoid cotton and opt for wool or synthetic materials. If you have a low tolerance to very low temperatures, you can add a fleece as a mid layer.
Skiing Gloves
If you think you already have them and you don't have to add gloves on your skiing gear list, think again. The kind of gloves you need for skiing must be waterproof, warm, and comfortable to offer you the dexterity you need to maneuver with the ski poles.
Skiing Socks
Just like the base layer, the socks must be made of a warm and breathable material – ideally wool or synthetic materials. For a 6-day trip, you should bring at least two pairs of skiing socks.
Skiing Goggles
Goggles are among the skiing essentials you must not forget to pack. Sunlight reflected by snow can blind you and just one moment of not seeing properly can lead to a severe accident. Since each type of goggles fit differently depending on the helmet, you should rent them together at our rental shop.
Backpack
We end our list of things you need for skiing with a backpack equipped with:
Water bottle
Sunscreen
Lip balm
Emergency medical kit.Water bottle
Sunscreen
Lip balm
Emergency medical kit.
A Few Helpful Skiing Tips
Here are a few things you should remember along with the list of skiing essentials for a great trip:
Exercise before the Skiing Trip
You don't want your skiing vacation to the Colorado Mountains to be ruined by muscle cramps. Exercising constantly is not only good for skiing but also for your overall health. So, try to be active in any way you find enjoyable: jogging, going to the gym, or playing sports with your friends.
Use Proper Skiing Equipment
We did not compile the list of things you need for skiing as a mere suggestion. We cannot emphasize enough how important having the right gear is for your own safety. Inadequate clothing and skiing equipment can lead to accidents with serious consequences.
Always Wear Skiing Helmet and Goggles
You may skip a layer of clothing, but never hit the slope without wearing a helmet and goggles. As a beginner, your coach will tell you that the skiing lesson won't start unless you wear adequate safety gear.
Check the Weather before You Go Skiing
Speaking of layers of clothing, we added them on our skiing gear list because it can get very cold on the slopes – colder than the winter temperatures you are accustomed to. So, check the temperature outside and dress appropriately every time.
Know Your Limits
Many accidents happen on the slopes because tourists try to push their limits too far. There is no competition and no prize to win. You are here to have fun and relax. You don't have anything to prove to anyone. So, know your limits, and when you feel tired, stop and take a break.
Follow the Rules
Along with the skiing essentials, remember this advice: never stray from the marked trail and obey any posted trail closure. All these are for your own safety. Also, remember that any skiers and snowboarders who are in front of you and below you have the right of way.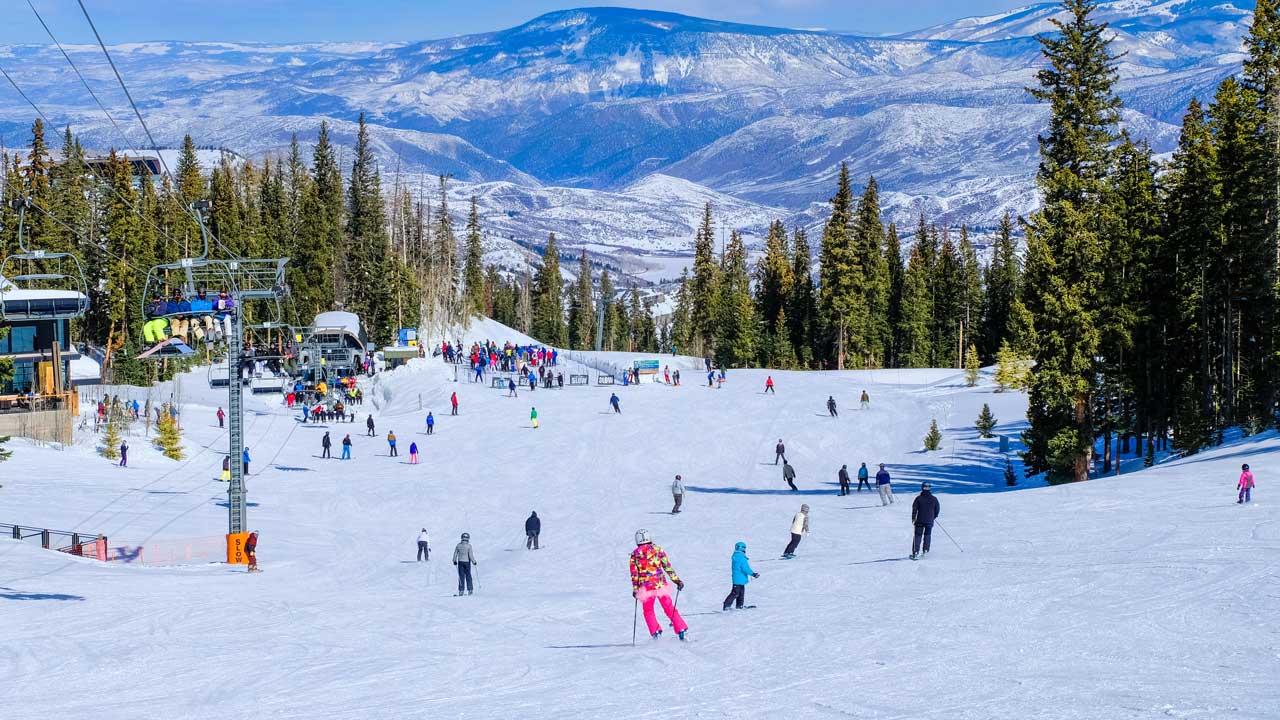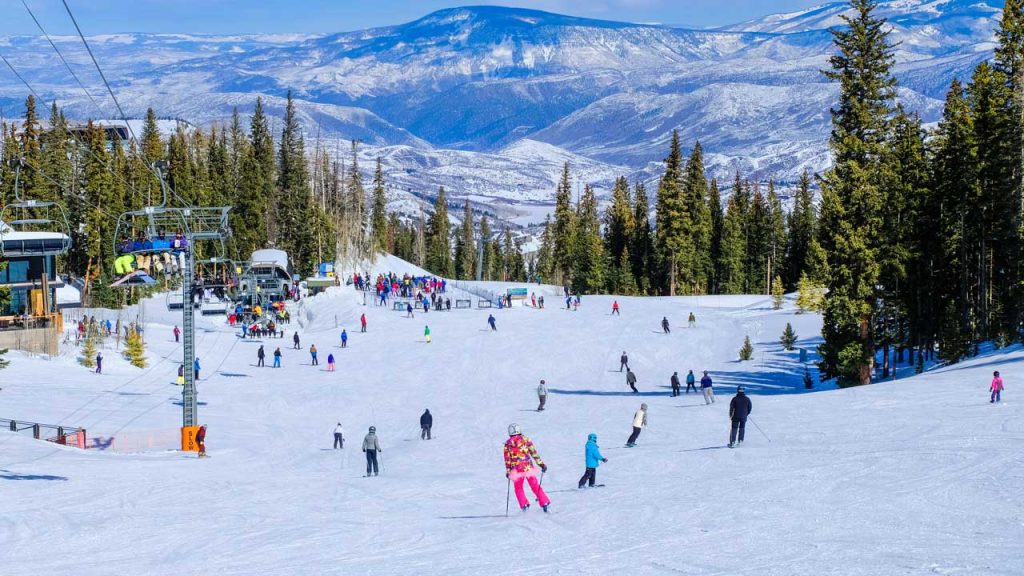 Rent All the Things You Need for Skiing from Us
At Carvers Ski+Bike, we know what clothes you need for skiing and how to choose the skis depending on your height and weight. With over 23 years of experience in the Colorado Mountains, winter sports hide no secrets from us.
Visit our online rental shop and reserve your skiing essentials in advance at a discounted price!