We are Your Ultimate Partner in Snowboard Rentals in Breckenridge, CO
You can reserve Breckenridge Ski & Snowboard Rental packages together on the online form. 
Reservations are required 72 hours in advance of your pick up date/time.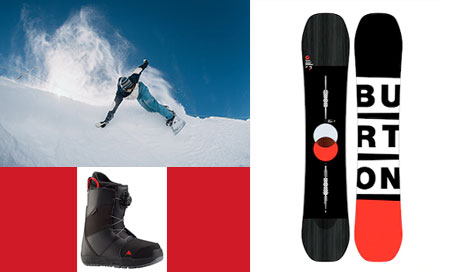 Demo boards are great for any ability level and any terrain.  Men's and women's specific models. These are the newest and best board and binding combos we carry from Burton, Gnu and Jones.
Walk In: $57.00
Online: $45.60
Walk In: $55.00
Online: $44.00
Walk In: $53.00
Online: $42.40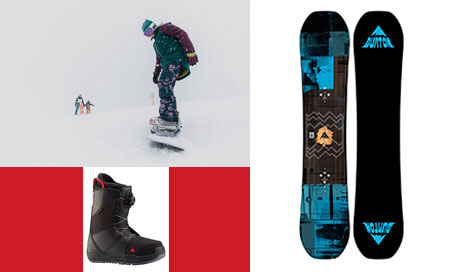 Sport boards offer a softer, forgiving flex catering to the beginner/early intermediate rider who are looking to improve their skills on the mountain.
Walk In: $47.00
Online: $37.60
Walk In: $45.00
Online: $36.00
Walk In: $43.00
Online: $34.40
Easy to use Jr. Gear from Burton for all ability levels. Individuals 90 lbs or less w/ shoe size 6 or less.
Walk In: $37.00
Online: $29.60
Walk In: $35.00
Online: $28.00
Walk In: $33.00
Online: $26.40
Rent top-notch snowboards for your entire family at Carvers +Bike in Breckenridge, CO. Our snowboard rentals feature a wide range of boards, boots, and poles to keep you entertained on the mountains when snowflakes begin to fall. Book early through our sport equipment website or call 1-800-568-7010. You can also earn an impressive 20% discount with our online snowboard rentals.
CHECK OUT OUR SNOWBOARD RENTAL PACKAGES
Ready to take your snowboarding skills to the next level? Our snowboard rental packages incorporate high-quality snowboards from leading brands like Bonfire, Burton, Salomon, Volkl, and more. We test all our equipment before you rent it, so we know it works!
Our experts are experienced and will help you choose the best equipment to help you enjoy the adventure safely. We have packages for all, including demo, sport, and kids packages. The snowboard rental cost will depend on the package you choose and whether or not you take advantage of the 20% discount on online reservations.
Demo boards are great for all skill levels and any terrain while sports boards offer a softer, forgiving functionally that suits beginners and early intermediate riders looking to improve their snowboarding skills on the mountain.
And if you have kids, the easy-to-use JR. Gear from Burton will help your little one have fun on the mountain. Regardless of your skiing ability or budget, our snowboard rental price levels are flexible and affordable.
FINDING SNOWBOARD RENTALS NEAR ME
If you're looking for the best snowboard rentals in Breckenridge, you've probably Googled the term "snowboard rentals near me." Fortunately for you, you've landed in the right place. Carvers Ski+Bike is your snowboard rental service provider of choice. We feature a broad range of snowboards for beginners, early intermediate riders, and juniors. You can reserve your equipment in advance through our website or by phone at 1-800-568-7010 for the best rates.
Reservations should be received 72 hours in advance of your preferred pick up date or time. With our online reservations, you will enjoy a 20% discount.