When you're taking a trip out to the mountains, you're juggling a lot. You want to nail your accommodations, organize ski rental services, make sure everyone's covered on food, and maybe even try to enjoy yourself a bit too!
What often gets thrown to the wayside is the ski clothing layers, which is your protection against the winter weather and the snow. Yes – professional skiers look good, and there's a culture around looking great on the mountain. But, at the end of the day, this cool-looking gear serves a purpose. It keeps riders warm, dry, and ready to tackle the mountain day after day.
This piece is a deep dive into skiing gear and how to layer ski clothes – from base to shell – to make sure you understand what you need and why you need it.
Breaking Down What To Wear First Time Skiing
Every ski layers diagram you find will show you that layering for skiing is an art. After years of experimenting with layer combinations, the definitive answer to "how many layers to wear skiing" is…three.
Layering For Skiing: The Three Critical Layers
Base Layers For Skiing
A lot of times, people get so caught up on the flashy jackets and pants that they forget about the first of the ski layers: the base layer.
Base layers are usually thermals or other thin, insulating materials that do a good job of wicking sweat and keeping temperature up and your body heat as close to your skin as possible.
Skiing Mid Layer
A tried and true mid layer that won't break the bank is a solid fleece and long johns.
The job of the mid layer is to provide insulation and trap as much heat as possible.
Outerwear: The Moisture Barrier
Now onto the fun stuff: the outer layer. This is often the most "technical" of layers to wear when skiing because its main role is to battle the thing that makes skiing so fun: water.
Material choice plays a very important role in selecting outerwear (and is what most ski gear enthusiasts like to geek out on). There are tons of material choices on the market, and the selection is ever-changing.
When you're layering for skiing, the most important aspect to selecting a shell is water resistance. Truth be told, if you're only hitting the slopes a couple times a year, you're probably fine selecting a material that offers water resistance.
Again, there are lots of different coatings to pick from. Extreme mountaineers will want highly rated water resistance ratings (for example, ratings offered by the higher-end GoreTex products) – but when getting dry is as close as the Summit House only a few times a year – getting a jacket and pants with decent water resistance ratings will keep you fairly dry.
Protip: You still want to find a shell that's breathable.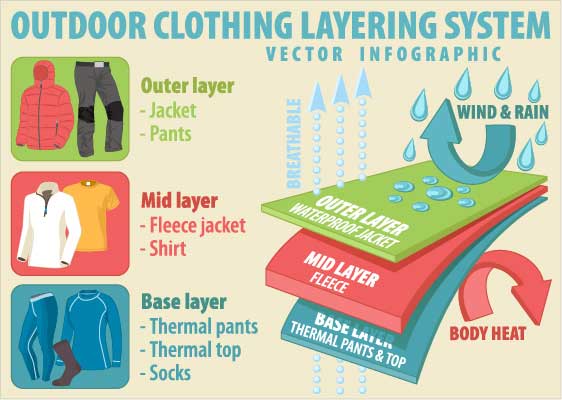 Ski Accessories Breakdown
Headwear
Accidents can happen anywhere on the mountain – always wear a helmet when skiing.
You may see pro snowboarders on TV wearing hats, but if a giant half pipe is out of your skill range – you need to be wearing a helmet. Along with hard-packed slopes and trees, other skiers also pose a risk, and collisions are dangerous.
Eyewear
Ski layers help keep your body warm and dry – but how about your eyes? Not only does proper eyewear keep your eyes safe from debris and in the event of a fall, but it's actually very important in keeping your eyes dry.
As you level up on layering for skiing, you'll get better at skiing, too. And tearing down a mountain exposes your eyes to a lot of cold, rushing air that dries them out and makes it difficult to see as you descend.
Gloves
Aside from debates over correct layering for skiing, there's the age old debate over gloves or mittens. Some like the dexterity of gloves, while others prefer the warmth of mittens. The choice, just like the clothes you chose to wear, is up to you.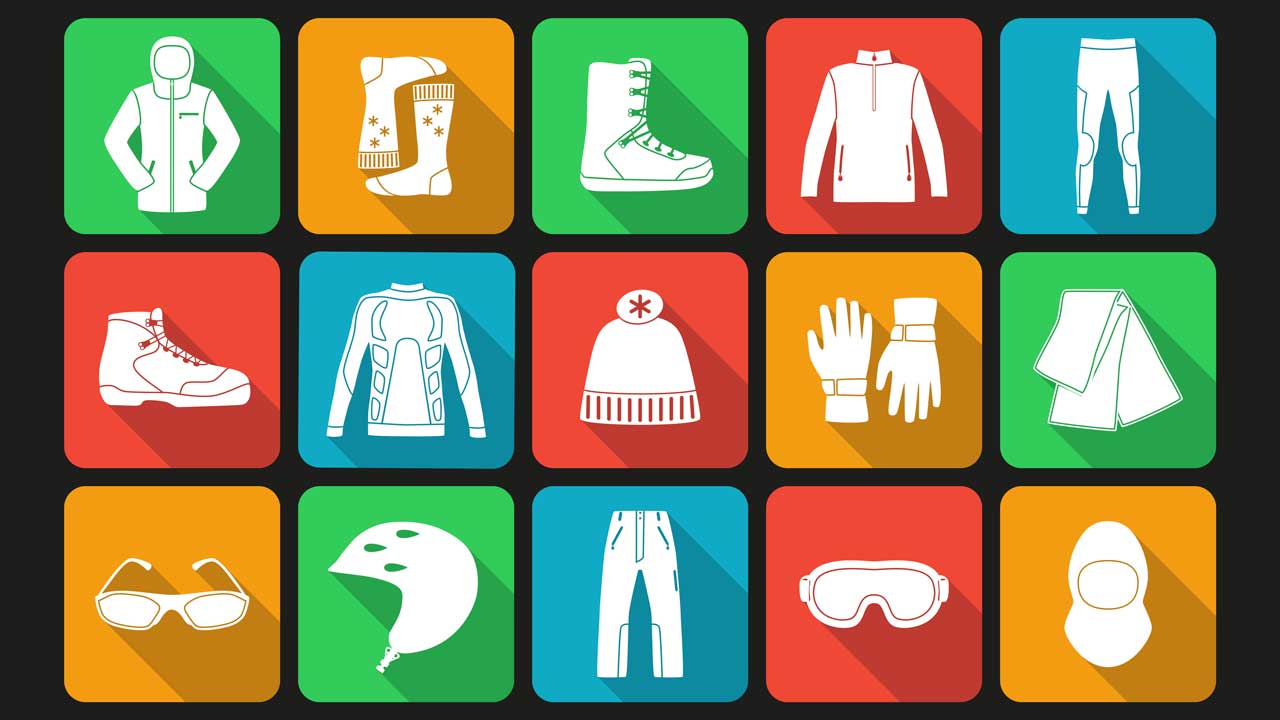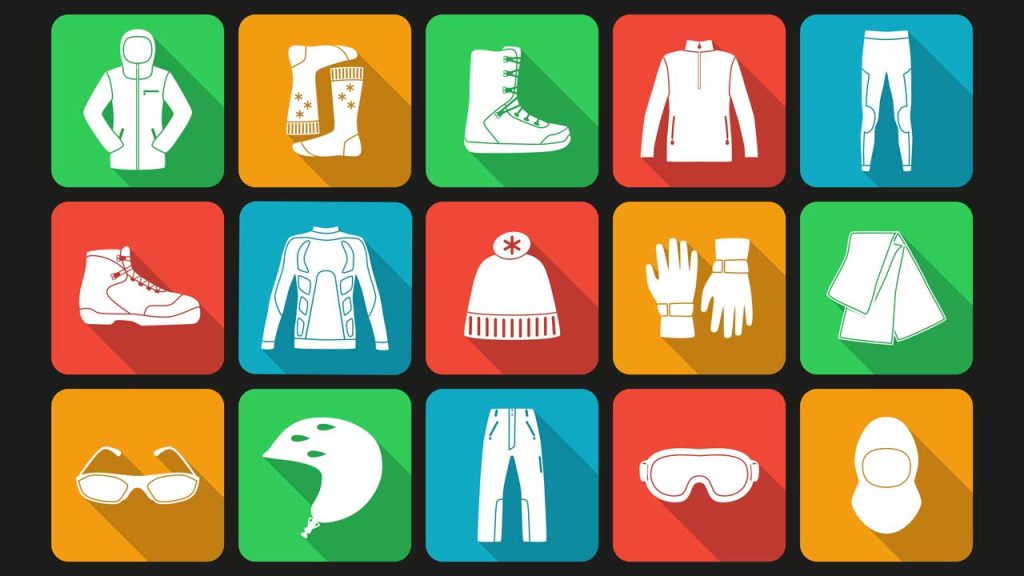 Layering Rules: Do These
Always wear all three layers for skiing
Pick a thicker mid layer when going out on colder days
Always wear dry layers (if you can)
Let your outer shell jacket and pants dry every night after use
Pick an outer shell that affords both water resistance and breathability
Layering Rules: The Don'ts Of Layering
Don't wear more than three layers when skiing – it can make you sweat more and trap the moisture (actually making you colder!)
Don't wear cotton – as it is a natural fiber, cotton gets very cold when wet and won't help keep you warm
Don't wear wet clothes if you can avoid it. It's nearly impossible to dry wet clothes out when skiing
Come Visit The Ski Rental Experts
Carvers Ski+Bike is Breckenridge's local ski experts. We carry the very best brands in the industry and, with 23 years of experience as a family owned and managed operation – we'll get you exactly what you need to have a great time on the mountain.You can also call us for any inquiries: 970-453-0132!