What is my ski boot size? Many ponder this question when trying to find a ski boot that fits. Ski boots directly impact how well you ski and your comfort level during skiing. Select the level of flex according to your skill level and ski boot sizing. Carvers Ski+Bike offers seasonal ski rentals and complete mountain sports gear to keep you safe while you enjoy. Here's our guide on choosing the right ski boots for your next winter adventure.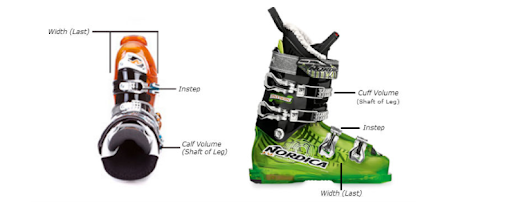 Kids Ski Boot Size Chart; Catering to the Little Ones
The shoe for kids is narrower in width, softer in flex, and shorter in the cuff. It helps young skiers to flex, bend, and move the boots to get more control and stability over skis. 
Women's Ski Boot Size Chart; Specifics for Women
The female foot is thinner, with more taper from the forefoot to the heel. Women's leg shape is also different as the legs are fuller and shorter, and ski boot sizing is the best way to get the right pair to protect your foot. The center of mass in women is also different as it is located in the backside and the hips region. A womens ski boot size chart helps them in determining the right size. Most women's boots have a heel or forward lean to keep their weight forward for more efficient skiing, requiring accurate ski boot sizing.
Men's Ski Boot Size Chart; Catering to the Men
A men's ski boot size chart will be according to male foot design. The leg shape is usually taller, requiring slightly stiffer flex and a wider foot shape. Mens ski boot size chart will let you decide on the best pair of ski boots for your next winter adventure.
| | |
| --- | --- |
| Foot Shape | Boot Last |
| Narrow | 97-99mm |
| Average | 99-102mm |
| Wide | 102-104mm |
| Very Wide | 104-106mm |
What Size Ski Boot Do I Need to Wear? Let's Do Some Math
To determine ski boots sizing, you need to know your Mondo Point size, which is just how many centimeters your foot is. You may also get liners and shells at manufacturers that are from half size to full size. If you want to know 'what is my ski boot size', remember that most of the ski boots are manufactured in half sizes. The difference is of stock footbed thickness in between the two. For more information, check ski boot sizing.
What is a Flex Rating?
The flex rating is associated with how stiff the boot is in forwarding flex, and your ski boot sizing is based on it. The higher the flex rating, the stiffer the flex. When pressure will be applied on the front of the boots to bend the ankles, the boot will be more rigid and reactive. Less flex means it will be easier to bend at the ankle with the boot. However, the boot will be less reactive.
Choice of Ski Boots Depending on Skill Level
Using accurate ski boot sizing can help you choose boots according to your skill level. Beginners are first-timers learning basic skills, whereas an intermediate skier is someone with control over their skis. According to the accurate ski boot sizing, athletic or heavy beginners can use boots designed for intermediate skiers. Advanced intermediate skiers have more experience and they tend to explore off-trail skiing, whereas advanced skiers are capable of maintaining solid technique. Women's and men's ski boot size charts help to determine the right size. Expert skiers can safely ski and control at high speeds regardless of snow conditions and terrain.
| | | |
| --- | --- | --- |
| Ability | Men's Flex | Women's Flex |
| Beginner | Less than 80 | Less than 65 |
| Intermediate | 80-100 | 65-85 |
| Advanced | 100-120 | 85-95 |
| Expert | 120-130 | 95-110 |
| Racing | 130+ | 110+ |
Features of Ski Boots
SKI/HIKE FEATURE
On the rear spine, the ski/hike switch is located on the boots. It can unlock the upper cuff from the lower shell giving you more mobility when hiking or walking.
FLEX ADJUSTMENT
In some ski boots, you can adjust the flex by increasing or decreasing it by 10 according to ski boot sizing. You can also shift it from stiff to soft.
CUFF ADJUSTMENT
Thinking 'what is my ski boot size'? The answer is also linked with the cuff adjustment on the outside ankle. Beginner boots have no cuff adjustment whereas higher-end boots have dual cuff adjustment.
FOOTBED
You should get an aftermarket footbed to get better support, alignment, fit, and warmer toes in winters.
CUSTOM BOOT FITTING
Ski boot sizing can be changed with custom boot fitting. A boot fitter can make adjustments to eliminate pressure points.
Get High-Quality Ski Boots
If you are confused about ski boot sizing, our expert professionals are here to help you choose the right one. Carvers Ski+Bike has years of experience in providing high-quality mountain sports gear. If you are planning your next ski trip, get in touch with us in Breckenridge, CO, and grab the best brands.