You may wonder, "what size ski do I need?" Well, choosing the right size for skiing is a daunting task. Carvers Ski+Bike is here to help you with skis and seasonal ski rentals. The most basic level of picking the right skis begins with addressing the question "what length ski length should I get". Skiing is not just a sport, it is indeed an adventure. Make sure that the skis you use are the right size for you before you plan to make your way through pristine snow. Otherwise, your triumphant run down can turn into a disaster. There is no perfect formula to determine the perfect ski length, but a ski size chart can help.
Ski Length Chart; Determining the Length
Unless you like the idea of rolling down the slopes in a free fall, ask yourself: what ski length should I get? The answer is complex: the right skis for you might not be the ones you have been using. A ski length chart helps you choose accurately depending on your weight, height, and ability. The taller you are, the longer ski you will need. The longer ski provides you with a strong base to support your higher center of gravity.
You should always choose skis that are as long as your body's height. Make sure your arms are extended above your head. If you're having difficulty figuring out how to determine ski length, here is our sizing chart. The size is determined by the height. On the left side, the skier's height is listed in feet, then there's the same height in cm. The ski length chart gives you the best-suggested ski lengths.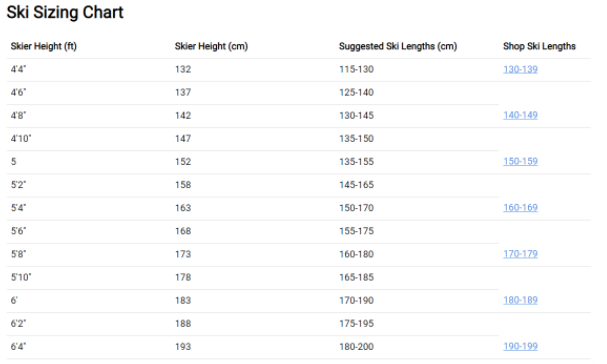 How to Choose Ski Length; Making Up Your Mind
Don't worry: instead of relying on a separate ski size chart for women and men, we have made a simple all-purpose ski size chart. In the end, it doesn't matter if you are choosing the skis for a man, woman, or kid: it all comes down to your personal preference.
Overall, the perfect ski length is somewhere between your chin and the top of your head. If you are an expert or advanced skier, then you may choose skis that are slightly longer than your head height. If your height is around 6 feet, you should choose skis between 170 cm and 190 cm. The exact size will depend on your skiing style and ability. Ski category and snow type also influence your choice.
REASONS FOR CHOOSING SHORTER SKIS
Within the suggested range provided through the ski length chart, there are several reasons to choose a ski that is slightly longer or shorter. If you talk about ease, a shorter ski will be easier to turn. A longer ski will provide you with more stability. Check the ski size chart before deciding on shorter or longer skis. Longer skis also provide you with more surface area to offset your weight, whereas rockered skis are easier to manage between turns. They can also be skied longer than camber skis. Freeride ski has a larger radius.
There are reasons to choose shorter skis that are closer to your chin:
You are a beginner level skier
You ski fast and you like to make quick and short turns
You don't need a rocker; you want a carving ski with a camber
Your weight is less than the average of your height
REASONS FOR CHOOSING A LONGER SKI
Reasons to choose longer skis closer to the top of your head:
You ski aggressively and fast
You are planning a twin-tip ski
You won't ski with a rocker
Your weight is more than the average of your height
You plan to do off the trail skiing
Get the Right Size Skis at Carvers Ski+Bike
Still thinking, "What length ski should I get"? Carvers Ski+Bike provides the best skis in Breckenridge, CO, and we'll help you find the right equipment for your next cross-country skiing adventure. We are a family-owned business with 23 years of experience; expect nothing but the best service.